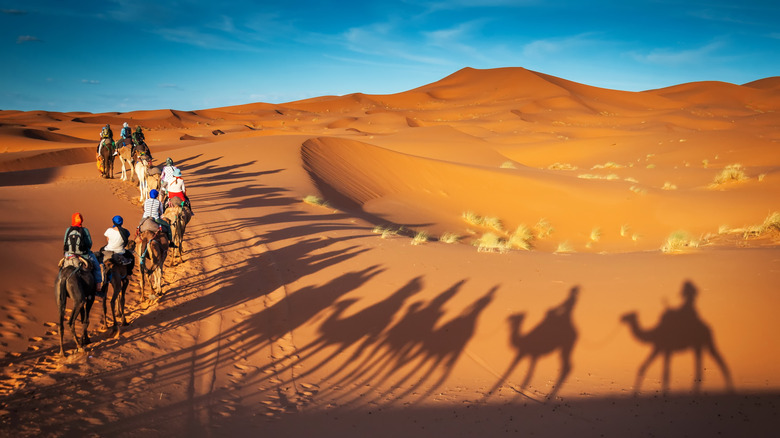 When you think of Dubai, the first thing that comes to mind is probably the stunning displays of wealth, the Burj Khalifa spire, and all the beautiful people dressed in designer clothes. While the city has made a name for itself with its over-the-top architecture and glamorous city living, you may forget that it is surrounded by an incredible desert landscape.
Going on a safari to the desert in Dubai is a great opportunity to take a break from the bright city lights and see a more authentic side of the UAE. But don't forget, this is still a desert and that means it can get hot. Very hot! In fact, the Dubai Travel Planner says temperatures during the summer months can reach over 122°F (50°C).
So when are the best months to go on safari in Dubai? While the summers are blistering, this does mean the winters in Dubai are fairly mild. MyBayut says the best time to visit is in the winter from November to March. You can expect mild temperatures during the day and at night it gets chilly but not unbearably cold.
What to wear on a desert safari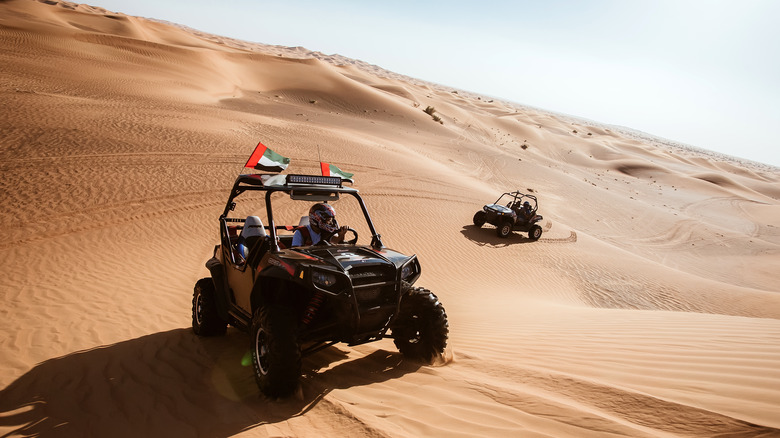 If you go on safari in the winter, you can expect milder temperatures but you should still be sure to wear appropriate clothing and sun protection. The Curated Taste blog advises safari-goers to bring UV protection (a hat and sunblock) and to dress in light-colored layers to stay cool during the day and warm in the evening since it will get chilly! Since you will be walking in the sand at some point on your safari, it is also a good idea to wear open-toed shoes or sandals so the sand doesn't get stuck in your shoes.
While Dubai is more modern than the rest of the UAE and foreigners won't get in trouble for showing skin, it is a sign of respect to follow the local customs and cover up, even when in the desert. Some tour operators may also have dress codes, so be sure to read all the fine print before you book. You can dress conservatively and still stay cool by wearing loose-fitting pants and long flowy skirts and dresses made with linen, silk, or lightweight cotton. Still not sure what to wear? Lucky for you, The Blonde Abroad has an entire packing guide for travel in conservative countries!
Activities to do on a desert safari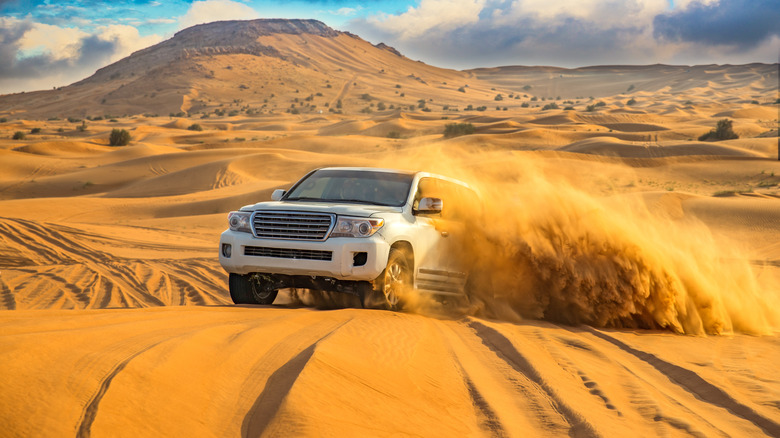 Due to the popularity of desert safaris in Dubai, there are many options to choose from to make the most out of your experience. For those interested in venturing out to the dunes, it will be hard to disappoint even the pickiest of travelers.
Tour companies in Dubai offer a range of experiences. This Two Scots Abroad blogger has gone on over 25 (!) desert safaris in Dubai and provides insights on a variety of tour options. Whether you're on a budget after splurging in the city or looking to go all out there are tours for those looking for adventure or a great cultural experience. Operators offer everything from quad bike and dune buggy tours to belly dancing performances and incredible spreads of traditional Arabic foods and desserts.
The most popular activity you will see on offer though is something called "dune bashing." Though it's not for those with sensitive stomachs, this is a great activity for adventure seekers looking for a new kind of thrill on their desert safari! Trained tour guides will take your group out to the dunes in vehicles modified for this specific activity. The drivers speed up and down the dunes making for a bumpy but exciting ride through the desert.