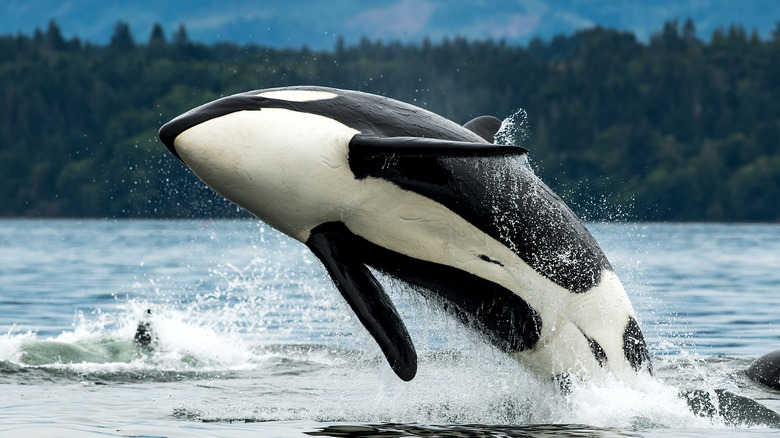 Along with being a vibrant, culturally rich city, Vancouver is also one of the most ecologically unique and naturally beautiful destinations in North America. Located in the Lower Mainland of British Columbia, the bustling metro area of Vancouver is surrounded by the North Shore Mountains, temperate rain forests, and the Pacific Ocean.
There's plenty for nature-lovers to experience in and around Vancouver, but the city is one of the world's best locations in the world for whale-watching. Several different species of whales migrate through the city's nearby waters each year, and some types of whales are year-round residents, including several pods of killer whales, according to Inside Vancouver.
While it's possible to spot whales throughout the year around Vancouver, the locals suggest that visitors take whale-watching expeditions when the water warms up. By doing so, you'll have the best chance to see both resident pods and the different species of migratory whales.
March to October is ideal for Vancouver whale-watching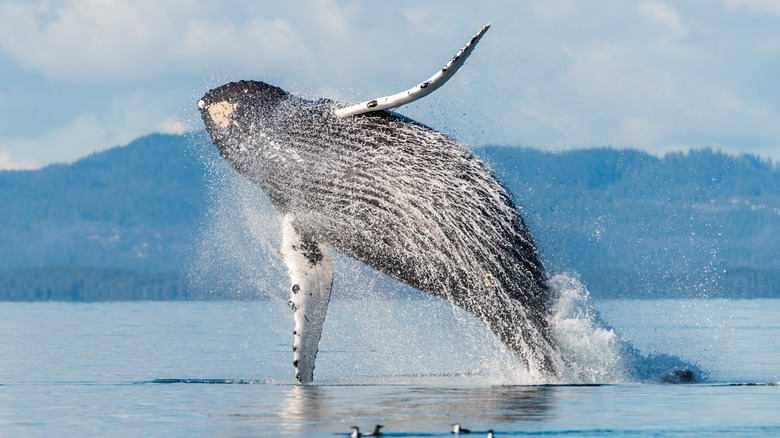 According to locals, the best time of year for whale-watching in Vancouver is between the months of March and October. During this time, you'll have the opportunity to spot a number of whale species feeding and breaching the water as they migrate past the Gulf Islands, San Juan Islands, and other areas of British Columbia's remote coastline.
In these northern waterways, you have the chance to see pods of humpback, gray, and minke whales. Per Vancouver Island, thousands of Pacific Gray Whales migrate during the months of March and April, although some gray whales will continue to feed in the area during the summer months.
Depending on your level of thrill-seeking, there's a number of tour types to choose from. You can take a high-speed zodiac or kayak for an up-close encounter, or for a bit less-splashy experience, you can take a seaplane or boat tour.
Resident killer whales are a highlight of Vancouver sightseeing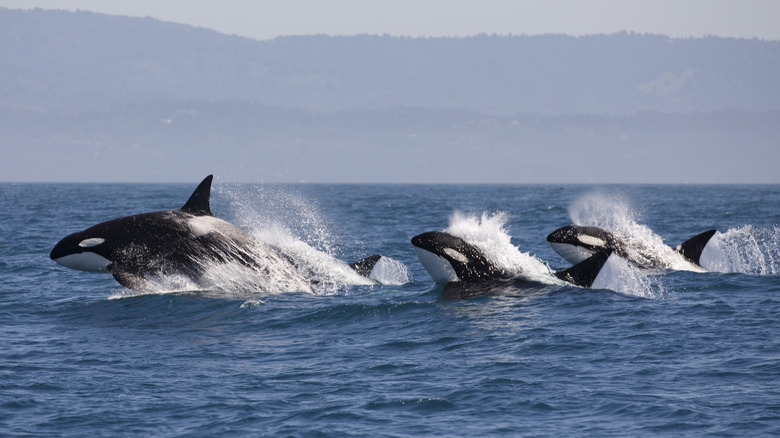 The orcas, or killer whales, that hunt the waters near Vancouver may be the area's biggest draw. According to Vancouver Island, British Columbia's killer whale population is divided into two groups — resident orcas and transient orcas. Resident orcas travel within predictable ranges and mostly feed on fish, while transient orcas typically feed on seals, sea lions, and other whales.
The best time to spot killer whales is a little later in the year, between the months of May and October. Per Destination Vancouver, this is because resident orcas feed on the migrating salmon that swim through the Strait of Georgia and the Gulf Islands.
While understandably the highlight of whale-watching is seeing whales, the British Columbia coast is also teeming with other types of wildlife. On a whale-watching expedition, you'll likely spot sea lions, seals, otters, bald eagles, puffins, loons, as well as various types of dolphins and porpoises. If the whales prove to be a bit shy on your outing, wildlife enthusiasts should still enjoy a fulfilling day on the water.